I have always grown up with dogs in my life.  I have been exposed to many different breeds from Lhasa Apsos to German Shephards and Doberman Pincers.  My aunt was a breeder of Dobermans so I grew up around it.
My husband Allan and I had both read an article about Portuguese Water Dogs.  It was a breed neither of us had ever heard of.  We were both curious.  We lead very busy and adventurous lives and have always had dogs in our home.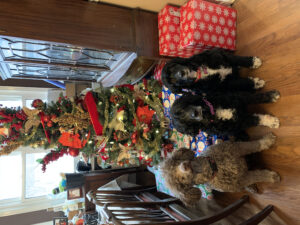 After we researched a little about Portuguese Water Dogs we decided to go see them and well it was love at first sight.  In July of 2009 we brought home our first Portuguese Water Dog a male named "Ace".  He was an absolute delight.  He trained in a nanosecond and was so smart and fun.  The breed was everything we hoped for and more.
As I learned more about the breed I fell in love even more and started on my own path of getting involved in breeding.  My mentor Lorraine Wilson of BigBay Reg'd showed me what to watch for and taught me so much about the breed in terms of temperament, structure, train-ability and so much more.
My journey began and I have never looked back since.  We currently have 3 Portuguese Water Dogs, our male "Ace" and 2 females.  One which I have now bread with Lorraine a few times "Siena".
We have had beautiful litters and the families we have worked with are very happy.
Why do I love this breed and breed them.  We have had so much joy with all our dogs in our home they each have a unique personality and are so much fun and so very smart that I just wanted to help people and families realize that they can have this same type of joy and fulfilment.
We are committed to breeding healthy, well-tempered, intelligent puppies that will bring the most joy to your family.
Our pups are born in a "puppy room" in our home, and raised in our busy, bustling household with our children and other dogs. At our house, there is little distinction between the kids and the dogs, as they are all important family members!
Our puppies come from our home-bred Canadian-Championed Mothers, and Established Canadian and/or American-Championed Fathers, all who descend from multiple generations of Championship bloodlines! Our adult dogs have comprehensive health clearances, and are known for the health, temperament, structure and train-ability of their offspring.